Ever been unsure about which product to buy, only to be swayed by family, friends, or colleagues when they've told you a particular option is the best thing since sliced bread? If so, you've experienced customer advocacy firsthand, where the customer serves as an extension of the sales team.
Research has shown as many as 92% of consumers trust word-of-mouth recommendations, making it one of the most prolific forms of advertising, while 76% trust advocate content as opposed to the content shared by the brand itself.
We're going to focus on key discussion points relating to the topic, including:
What is customer advocacy?
Customer advocacy is when companies take proactive steps to build and nurture relationships with loyal, long-term customers.
These customers serve as spokespeople and patrons for your brand, products, or services.
How do customer advocates help sales and support teams?
Customer advocates can facilitate success when working alongside sales and support teams,  but why are they useful assets to these particular teams?
Maintain customer relationships
Many consumers struggle to acknowledge sales and advertising as the beacon of truth, with a 2019 study revealing that a staggering 96% of consumers are skeptical of brands and their advertising campaigns.
Customer advocates play a significant role in bridging the gap between customers and brands and keeping this relationship intact.
Enhance brand awareness
Customer advocates will move heaven and earth to share their experiences about how great your product is, in turn, improving your brand awareness.
Your advocates can raise awareness on a small scale by recommending products to colleagues and/or key stakeholders within a company, or by sharing with social media followers or at industry events and conferences, in which case, this offers scope for your product to be promoted to a multitude of potential customers.
Provide insights and assistance to other customers
Customer advocate programs can provide significant support to your customer support representatives.
Advocates share their own understanding and knowledge of your product, enhancing the quality of community self-service via avenues such as community forums.
Such platforms are becoming increasingly popular as a means of support, and advocates can offer their in-depth understanding to answer questions and provide feedback, alleviating the workload for your customer support team.
Improve product launches
Customer advocates are sometimes recruited as part of a company's product launch process.
As part of their role, it's their responsibility to test new features and provide suggestions on what could potentially be improved ahead of the product or service being released.
This feedback is invaluable for companies because an advocate's input is often used to flag potential bugs and issues that could've potentially hindered customer experience.
How to scale your customer advocacy program to accelerate your business
Speaking at the Customer Marketing Summit 2021, Jon Ashley, former Senior Manager, Global Customer Advocacy at Sage outlined his five tips on how product marketers can scale their advocacy programs:
1) Define your outcomes
My first tip is to define your outcomes. The definition of your program will focus on what you're delivering to the business. You don't want your program to be seen as non-essential.
Your program should touch all areas of your business and have specific business benefits that appeal to everyone, and that could be from a revenue perspective; references, referrals, nurture opportunities, as well as cross-sell and upsell are all ways in which you can measure outcomes.
Advocates are much more willing to undertake activities that expose them to cross-sell and upsell opportunities. More importantly, If you're ever talking to services support, they're much more willing to not argue over renewals, so bear that in mind.
Secondly, consider external influence and how your advocates are using their voice in the public domain. This is where they're promoting you and implementing a peer-to-peer approach.
Finally, don't forget about the fun elements. The fun doesn't have to be silly or whimsical; it can be fun in a creative way. Think about your learning, how you socialize with your advocates, and think of methods you can use to educate in a fun way. You'll be amazed at how this approach resonates with your target audience.
2) Get buy-in
Your advocacy program needs to secure buy-in at all levels. Successfully securing buy-in not only raises your profile but also demonstrates to your colleagues the value of the contributions you're making.
During this stage, don't just give your target audience the 'fluffy' stuff. Whilst some of the fluffy stuff is important, you need to demonstrate what's making a difference to them. Your senior leaders are interested in revenue, what's been generated or what's being influenced, or what's even being protected.
From a sales perspective, it's about new business referrals and how you can get them involved in the reference process. Moreover, from a marketing perspective, you need to demonstrate how advocates can get involved in campaigns, how they can help with content, and how they can help with providing testimonials or doing surveys or reviews.
Similarly, your customer success team will love you because you're making it easier for them when it comes to renewals. You'll also get good handles on how to position, cross-sell and upsell opportunities, but also help them get the most from the product they bought.
Finally, don't forget about service and support. You can reduce technical support calls and start to crowdsource support to answer those technical queries so you're reducing the kind of calls and the queries that go into your support desk.
Don't forget to open up your advocacy program to your colleagues. Let them get a sense of what you're doing, experience it first-hand, and invite them to come up with ideas and collaborate.
The great thing about your advocacy program is once your colleagues have bought in and they see the value that you're delivering, they'll come up with ideas and come to you with suggestions on how they want to use advocates.
3) Be flexible
Maintain flexibility and don't be afraid to constantly evaluate where you are with your program; it's fine if you want to change direction, especially if you're reflecting on changing advocate needs.
Keep asking your advocates questions, seek feedback on how they're enjoying the program, their roles, and balance what you're doing with new advocates with your activities, whilst keeping existing advocates engaged.
I've seen so many programs over my years working so hard to find, recruit, and involve new advocates, only to lose them because there aren't enough activities in the program to keep them engaged regularly, so you must be consistent.
4) Make it desirable
You need to make your advocacy program desirable. This is a big one for me and could be perceived as being somewhat controversial.
I'm a big believer that your advocacy program should be exclusive and have an air of a 'club' about it.
The main reason is that by creating this desirability, you'll have customers who want to join with whom you can engage.
Sometimes this may allow you to engage those customers who would traditionally not be seen as advocates by saying, 'Would you like to join the club?' This is a perfect opportunity for you to open dialogue, find out why they want to join, and engage them directly.
You don't want to exclude customers as such, but people's curiosity will get the better of them; they'll want to know what your club's about, what your advocacy program is about, why they're not involved, and you'll be able to have conversations with them and show them what they can expect when they join.
Your customer will want to join if they see your program visibly in action. This is a great opportunity to use events to your advantage. If an advocate attends and sees some form of VIP treatment, this will impress them. Similarly, non-VIPs will think "I want some of that".
Remember to maintain a sense of exclusivity throughout your program and establish a sense of desirability - it's key and will help you do something special and unexpected.
5) Communicate
Remember to make everything you communicate internally in your business positive and celebratory. Tell your advocates about what others are doing within your program.
Have a monthly competition with your advocates to say 'here's our top advocate of the month and this is what they did to earn it', so that becomes desirable. Keep shouting about your program and share your successes.
Don't expect to have a seat at the table - you need to earn that seat. One of the biggest successes we've enjoyed within the Sage champions program is producing an internal video that put our customers at the heart and center of a video where we asked them to talk about what they love about being part of our program and it was amazing.
One of our advocates said the advocacy program changed their entire perception about Sage, and that they now feel part of the family. It works and there's nothing better than hearing your customers praise your program.
If you have a discussion forum, use it to your advantage and use it as part of your program so that advocates talk to each other. You'll be amazed at the interactions that happen and the relationships they build, and that'll help you in the long run.
Why all customer marketers should build a customer advocacy community
During her career, Katie Smeal, Senior Customer Advocacy Manager at DocuSign, has been presented with an opportunity to apply her communication skills, support her passion for storytelling, and her desire of connecting people and developing meaningful relationships.
Katie believes the customer's voice is the most important area of focus for all businesses and is passionate about getting to know customers and identifying opportunities to tell their stories and elevate their voices.
She outlined why customer marketers should be aiming to build a logistic customer advocacy community:
What is community?
First and foremost: what is community? It's defined as:
"A feeling of fellowship with others as a result of sharing common attitudes, interests, and goals."
As human beings, we crave connections with others, sharing our stories and experiences - that's how we create a true sense of community.
Gathering and sharing stories is something that I've been passionate about in my personal life.
I never knew that there was a way to bring that into the business and tech world until I learned about customer advocacy and what it has to offer. I realized that's exactly what the business and tech world needed to embrace and bring to life.
When I was at VMware, I was responsible for creating and launching our global customer advocacy community. It was an exciting and rewarding challenge. I joined the DocuSign customer advocacy team earlier this year to be a part of building and launching the customer advocacy program at DocuSign.
At DocuSign, we're working together to identify opportunities to move away from that traditional way of engaging with our customers and creating true customer advocates with a robust and engaging experience.
How to create an engaging customer experience
To create an engaging experience for our customers and those relationships, we have to look beyond the way that we've done things in the past and look for bringing these special moments of being together in person to an online forum.
There might be times where we're able to engage with our customers in person, but the majority of our connection will be with our customers online.
So how do we bring these magic moments into the online community?
Before I discuss customer advocacy in further detail, I wanted to share a customer advocacy quote and a story from a few years ago, when my team and I were on-site at a conference after launching our online customer advocacy community.
We were standing at our booth watching our customer advocates engage with each other, exchange numbers, attend sessions together and share stories. It was incredible to witness how creating a community within the tech space could truly come to life and the impact that it has on our customers.
I sat down to talk to one of our customer advocates just to catch up, see how things are going for him in the work and the work sphere, and to ask: how can we make this community better? What are we doing right? What are we doing wrong? I was desperate to learn from him. He answered:
"The IT world is a big place, and it's easy to get lost. The future of technology is only going to move faster and faster. We must build and rely on a community of people and resources we trust to achieve our current and future goals."
This was the moment that I realized the impact that we can have on our customers, by creating a community in our business.
I use and reference this quote all the time as I'm realising what's possible with customer advocacy and community. It's the impact that we can have on our customers by bringing them together to let them network and share experiences.
This is hugely significant for our business; it brings that magic of being together in person, and to the online format. I share this as a success story to inspire you, wherever you are in your journey of moving from that transactional reference recruitment model to providing and creating a customer advocacy community for your customers.
Having a customer share the impact that your community has on them is the dream state, but it takes a lot of thoughtful work and planning to get there.
I'm going to share experiences I've had building an online customer advocacy community in a previous role, as well as what our customer advocacy program looks like at Docusign.
My hope in sharing these experiences is that you can identify where you are in your journey, and you're empowered to take that next step to move from a transactional way of engaging with customers and building a community around customer advocates.
Why is emotion important in customer advocacy?
When I was introduced to customer advocacy, it was through transactional and traditional reference recruitment.
We interact with our customers and provide them with an opportunity through email, whether that's a speaking opportunity, a webinar, etc.
Oftentimes, people spot an opportunity for a customer to share their story, work with them to bring this to life, and showcase their story, before thanking them and ending communication.
It's not unusual for companies to not reach out to their customers until another opportunity arises. There's a gap that materializes, and it's difficult to nurture relationships with customers if you're only reaching out as opportunities present themselves.
This model is very transactional and you need to make your customers feel a connection and a commitment to your business - but how, if we're only reaching out as opportunities become available?
When we gather in person we don't just walk up to each other, exchange the bare necessities and leave. We stay, listen, share experiences, and connect. This is why building an online customer advocacy community that mirrors that feeling of being a person is so important.
You need to give your customers a dedicated space to share their stories and a place where they can connect with your business.
They need to feel a sense of partnership in this relationship where you're both communicating consistently with each other and learning about each other, beyond the transaction at the sales point.
Identifying customer touchpoints
It's critical to complete a business assessment to identify all of the customer touch points within your business.
From the moment that our customers transact with sales, what happens next? And what does that journey look like? Who's engaging with our customers throughout their journey? And what does that experience look like?
Considering these factors will help you when you're building your community, as well as your customer advocacy program in general; it'll help you see what that experience currently looks like and decipher your vision for what you want it to look like in the future.
Launching a customer advocacy community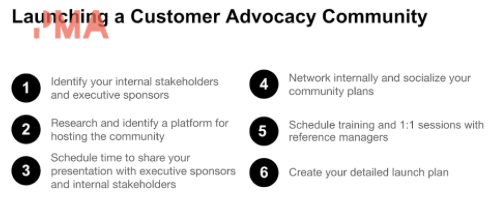 1) Identify internal stakeholders and executive sponsors
As you take off on this adventure, it's important to first identify your internal stakeholders and executive sponsors.
Think about all of the teams you support as a customer advocacy team, as those will be important stakeholders that you'll want to identify as you're building out what it looks like to launch this community.
Your executive sponsors, for lack of a better word, are going to be your advocates through this journey. They'll help you get to the point of launching your customer advocacy community. From there, you'll want to research and identify a platform for hosting that community, so take the time to look at what makes sense for your business.
When we were at VMware, we partnered with Influitive, and it was a great partnership, and we were able to accomplish a lot together. But I would recommend looking at what makes sense for your business and your overall goals.
2) Identify a platform for hosting the community
You then need to find a platform that meets the criteria you're looking for and build out a presentation that talks about the value of that platform, the value of what community would bring to your business.
Put the information together in the form of one presentation before scheduling time to share your presentation with executive sponsors and internal stakeholders.
3) Present to executive sponsors and internal stakeholders
It's important that you not only layout and identify what the value is of the platform that you've selected - you need to make sure that the value is well defined as you prepare to present to executive sponsors and internal stakeholders.
What does it look like for the business? How is this customer advocacy community going to be a value to customer success, sales, marketing, PR, AR, to all of these internal groups that we interact with?
4) Network internally and socialize your community plans
I'd encourage you to network internally and socialize your community plans. As you're meeting with different groups, socialize what you're planning to do with your customer advocacy community, get their feedback, make them feel a part of this village to launch this customer advocacy community for your customer base.
In doing so, when you prepare to launch, you're not in a place where people are potentially thinking: "why are you watching this?", or "what is this?" You'll have a whole village behind you, supporting you, because they see the value and how this is going to make a difference in the customer journey.
5) Schedule training and 1:1 with network managers
One group I'd pay attention to would be your reference managers. I've been a reference manager myself for many years, and we're used to that traditional model, where we reach out to customers through email, work with them on the opportunity, and we thank them. We either connect through email or LinkedIn, but that's what we've been used to operating in for so long.
You need to recognize that change can be hard. Therefore, I think it's important to schedule one-on-one sessions with reference managers to make sure they see the value in engaging with their customers and they're able to nurture their relationships with customers in this community.
Make sure they have the opportunity to share feedback and feel empowered to engage with their community and customers in that way.
And last, but by no means least...
Create your launch plan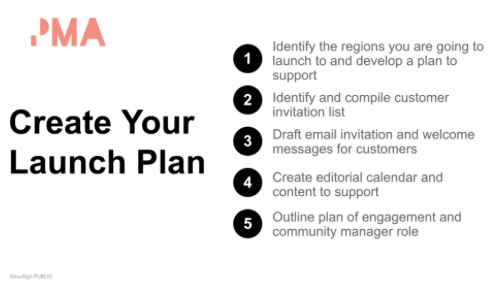 These are just a couple of key points that've helped me create a launch plan based on my experience:
1) Identify key regions
First, you'll want to identify the regions that you launched to and develop a support plan.
As you're looking at the different regions that you're rolling out to, you'll want to make sure that you identify the right way of engaging with these different regions. For example, what's important in North America, in comparison to Europe? What do your customers find engaging in the APAC region?
When you welcome these customer advocates into your community, they should feel welcomed, so you need to provide a great, customized experience for them. Dedicate the time to researching and understanding methods for launching effectively across a variety of regions, so your customers feel supported, welcomed.
2) Identify and compile customer invitation list
From there, you'll want to identify a list of customers to invite. Think of this like a party or a gathering; oftentimes there's the stars and those who are excitable.
On the other hand, other individuals are listeners. It's important to look at that in-person gathering, and how we bring that to life into this community.
You can do that by inviting existing customer advocates that you've already nurtured those relationships with, and then inviting new advocates so that they can interact. The ones who you've known for some time can encourage your other customer advocates to share their stories, network, and connect.
3) Draft email invitations and welcome messages for customers
You'll want to make sure to draft email invitations and welcome messages for customers, so have all the information that can be used to outline community value.
When you're outlining the value to them, give your advocates a guided journey, so that when they join the community, they're not just lost. They should know where to go, and you should guide them through their experience.
4) Create an editorial calendar and supporting content
Creating an editorial calendar and content is hugely helpful. Having content published every single week, and before launch, will make you successful.
We created an editorial calendar to help us plan ahead of time and decide the content we want to have. It's important to have a flexible calendar, as new things will materialize. To begin, our advocates shared three to five pieces of content and that was a great place to start.
Make sure you have fresh content in the community each week, and different types of content for your customer advocates to engage in. Rather than sticking solely to product and company announcements, ask your audience what their holiday plans are and whether they'd be interested in sharing your story.
You need to find ways to elevate the customer's voice and give them a chance to shine, whether it's enhancing their brand or professional brand. You can do that by engaging in a variety of different content
5) Outline plan of engagement and community manager role
Outline a plan of engagement and the community role and have someone dedicated to the community.
In doing so, your advocates will be engaged every time they log in. They'll have someone from your business they can ask questions to; this person will show up every single day for your customers and that's the way you can nurture and develop relationships.
How to build a network of advocates
You'll probably be asked: what is success? What are the benefits? How do you know you have a great network of advocates?
These are some of the ways I've identified a great network of advocates:
Loyal customers - Your customers are sharing real experiences and speak positively about your brand.
Empowered reference managers - Reference managers are consistently connected to their customers.
Niche product use cases - Uncovering niche product use cases to support sales and marketing requests.
Customer storytelling - Your advocates are raising their hands to share their stories.
Community engagement - Your community mirrors the presence of an in-person gathering.
To wrap up
Customer advocacy can take your community-led growth strategy to the next level. So, now's the time to take proactive steps to build valuable relationships with your loyal, long-term customers and increase your business' reach.
Looking for more tips on how to build a successful community? Join our growing community of CLG experts⬇️
---
Want to learn more about community-led growth? Professionals from across the globe are sharing ideas, insights, and resources right now.