Webinar - Building strong connections: Creating a supportive and positive community around mental health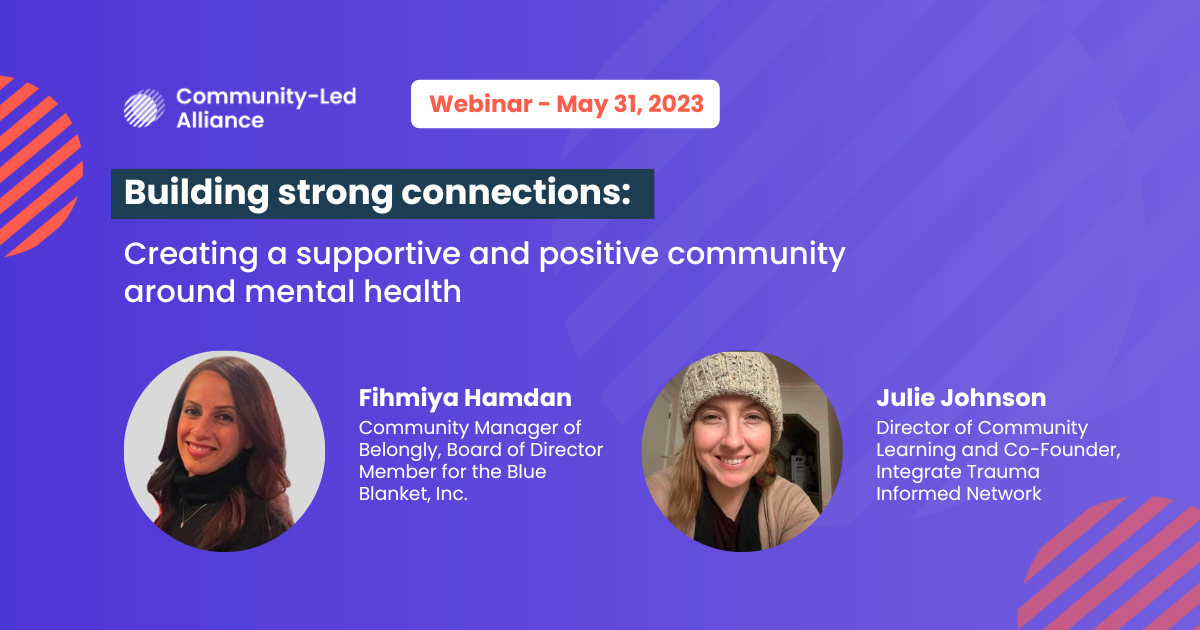 Join us for an unmissable webinar exploring how to effectively use community to build connections and provide support in mental health initiatives.

Here's what to expect 💡
We will discuss strategies such as relationship building, vetting processes, resource sharing, and appreciation to create a safe and trusting space for individuals to seek help and healing.

Julie Johnson and Fihmiya Hamdan will also delve into the technical aspects of implementing these strategies, including customer support, technology education, and SOPs for online gatherings. 🎉
---
Where and when?
📅 Date: May 31, 2023
⏰ Time: Time: 4 pm GMT | 11 am EST | 9 am MDT
💻 Location: Online

Don't miss this opportunity to learn how to maximize the power of community in promoting mental health and well-being.
---
Meet our speakers 👇

Fihmiya Hamdan - Community Manager at Belongly
Here's a bit more about Fihmiya

As a Learning Experience Designer with a passion for Community, Technology, and Education, I've spent over 15 years managing dynamic learning spaces to deliver both engaging and enriching learning experiences to diverse groups. I've learned that building meaningful relationships is essential to creating a sense of belonging and promoting collaboration, diversity, and inclusion.

Julie Johnson - Director of Community Learning and Co-Founder, Integrate Trauma Informed Network
Here's a bit more about Julie

My experience is a bit like fusion food: a unique blend of using evidence-based adult learning methods to enhance community connection and accessibility features in performance development for employee-facing training and customer-facing content marketing. With over 10+ years in education and L&D, I am passionate about ensuring the needs of the learner are considered from end to end of the design process.
See you there! 💗
---

💝 Remember to join our Slack community here!

🚨 This session will be recorded, and this recording will made available to those who have RSVP'd after the event is closed.