Slack Newsletter | Community-Led Alliance
March 24, 2023
This week at the Community-Led Alliance

🍃 Content 🍃

Inside CLA with Josie King, COO at The Alliance
We're back with another episode of the Inside CLA podcast, looking at community-led growth from the leadership perspective. This time, we spoke to Josie King about building an internal community team, and how the COO role looks in a community-led org. Tune in now! 🎧
What is a micro-community?
Providing community members with plenty of ways to engage and connect with each other is the key to keeping a community going. One of the easiest ways to achieve this? The micro-community. Learn more in this article. 📈
What are the responsibilities of a Community Manager?
Tired of people not understanding what a Community Manager role entails? You're not alone! Victoria Mortimer has been there, so she set herself a task to explain it once and for all. Check out her explanation of the CM role here. 🔎
Creating a community isn't a quick-fix business solution by Richard King
Our CEO here at The Alliance (the umbrella org Community-Led Alliance sits under) has built 15 thriving communities over the last few years, so we asked him to share some wisdom on creating communities. Don't miss out on these expert insights! 🥳
---
🌟 Community-Led Alliance ambassador program🌟

🚨 Applications for the Community-Led Alliance ambassador program are now closed. We will reassess in August 2023. 🚨
Thank you to everyone who applied! 🎉
Your community manager will reach out to you to discuss the next steps! 😎
---
⭐ Member Quote of the Week ⭐ ️

What's your advice for people working in community right now?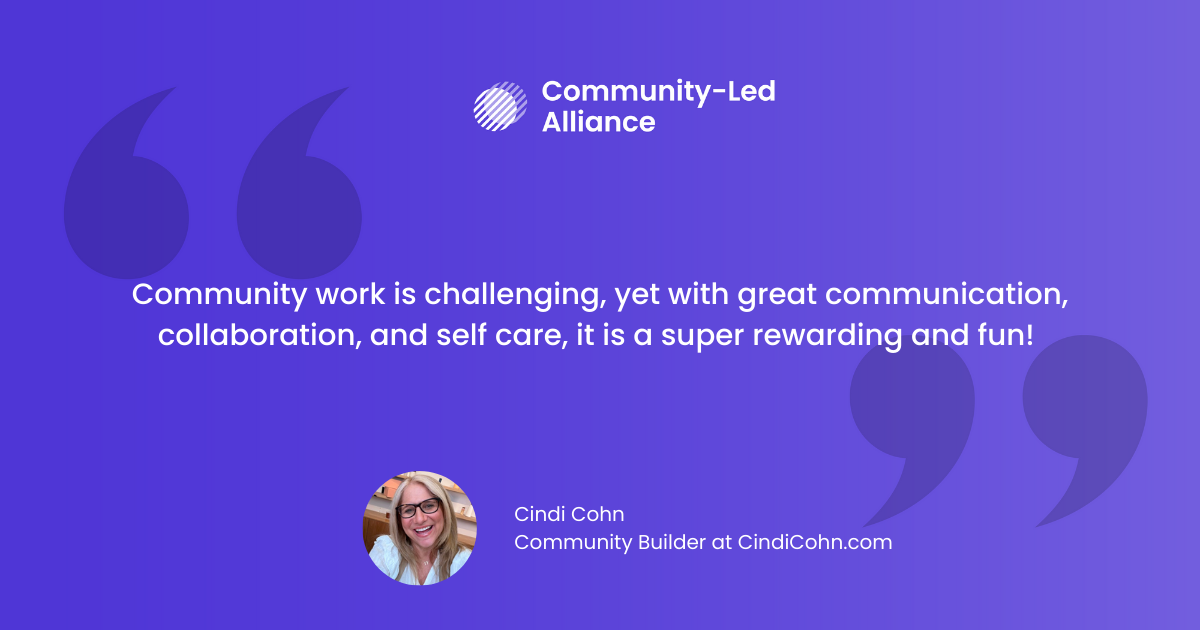 ---
🚀 Want to get involved? 🚀

If you have any ideas on topics, would like to be involved in speaking in our events or want to help us with organizing meetups, please contact @Tytti Hyysalo.

Interested in contributing to our content? Writing articles or joining our podcast? Our content lead @Jade Warne would love to hear from you!
---
🎤 Talking points 🎤

💬 Michelle Bissett is wondering what your background was when you got your CM role? Join the conversation here!
💬 Daria Kovaleva has a question on the hiring side. For the devrel /technical community manager role: what was the coolest and most insightful task you were ever given (or given if you're the hiring manager) during the hiring process? Let her know your experience!
💬 Rebecca Boucher would like to know how to create product messaging that's consistent with your brand identity and brand values? Answer the question here!
💬 Michelle Bissett is helping a coffee shop with a limited budget with their wix website. They want to be able to livestream performances, and they want to use Vimeo. Can Wix handle a live streamed video? What equipment would they use for this? Share your tips with Michelle here!
Do you have a question in mind?

Make sure to share your questions with our community in our #questions channel. ⁉️
---
💼 Job opportunities 💼

The role of your dream could be a click away…
No new jobs posted recently!
⭐️ If you are recruiting for community related jobs, please share your job ads in our #jobs channel.

If you come across an interesting job ad, feel free to share it as well to help others find new opportunities.
---
👥 Find us on LinkedIn 👥

Don't forget to follow our company page Community-Led Alliance on LinkedIn!

On our LinkedIn page, we share more resources, community updates, live videos and lot more!
---
🗣 Refer a friend 🗣
The Community-Led Alliance is a brand-new community that's only as good as its community members. We truly believe in the power of community spirit so, if you have a dream team who'd be interested in joining, send them here!